Source Engine 2 incoming?
Ivan the Space Biker's Personal Aid
#16 Posted 05 March 2015 - 08:05 PM
---
#17 Posted 13 June 2015 - 04:13 PM
Valve has begun the DOTA 2 transition into the Source2 engine.

Don't expect a visual upgrade because it will still use the same assets. However you can expect better performance, UI and added usability options. As always in multiplayer games the competitive community is very sensitive and will revolt against even subtle gameplay changes and so Valve is for the moment launching the Source 2 version of DOTA 2 as an optional beta test. Once they are confident that there are no major discrepancies/bugs they will update everybody else. This should work on DX11 for now and outperform the old source engine. But later in the year or early next year we should see bigger gains once the Vulkan version which Valve showed off at GDC is launched.
Valve is marketing this as DOTA 2 reborn- click below for lots more details
http://www.dota2.com/reborn/part1/
It's possible that once this process is complete that they will update CS:GO and TF2 as well to Source 2. Which would be a huge boost to the modding community.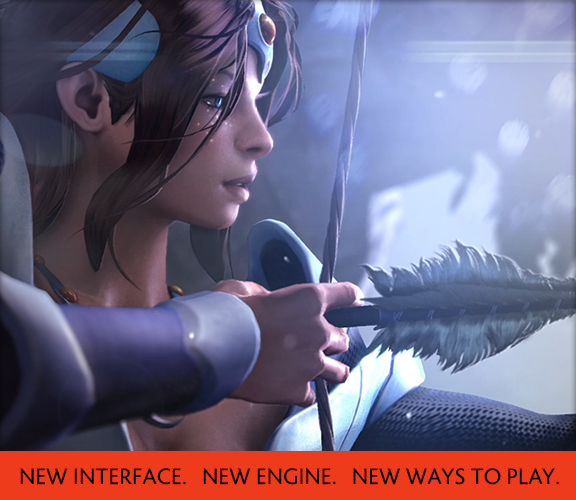 ---

#18 Posted 13 June 2015 - 11:11 PM
Humbug, on 13 June 2015 - 06:13 PM, said:
Valve has begun the DOTA 2 transition into the Source2 engine.


Don't expect a visual upgrade because it will still use the same assets. However you can expect better performance,
Am I the only one around here who thinks this is better than new visual fidelity?
contradiction: "So it looks like Half-Life 3 going to be a mix of photorealistic graphics and cell shading. Pretty sweet. "
---
#19 Posted 18 June 2015 - 01:18 PM
Valve- The Reborn Beta is now live and will run alongside the current version of Dota 2
In order to give us enough time to fix bugs and address feedback, we are aiming to bring it out of beta sometime after The International. ongoing development in the new engine will continue to improve Dota 2. Source 2 includes technology for rendering improvements, performance optimizations, higher fidelity content, and richer, more dynamic games. you'll notice a few features aren't fully functional yet, but we encourage you to play regularly and send us your feedback. We'll be updating the client frequently over the coming weeks as we bring everything online.
-Launch Dota 2
-Go to the Play tab and select Dota 2 Reborn Beta
-Click Install to begin your download
-Once the beta is installed, whenever you launch Dota 2 you'll be asked which version of the game you want to play.
-You'll find that your match history, items, rank, and friends are all the same across versions.
-Ranked Matchmaking will be enabled soon. We anticipate it being turned on in a few days, but we need more testing of the basic functionalities first.
for more details click below link, or else read the below summary
http://www.dota2.com/reborn/part1
Quote
-Dota 2 is only using a few of the new rendering features in Source 2, including normal mapping on all types of geometry and multiple reflective water planes in the same scene.

-Source 2 contains a number of new features and improvements, giving creators more design freedom. It removes many of the constraints on building the world of Dota 2, allowing map designers to create worlds that were not possible to build in the previous engine.

-Maps in Source 2 can be authored using powerful geometry editing tools and may contain complex meshes which are free of convexity constraints.

-engine is capable of delivering many more batches to the GPU, even when using older versions of the OpenGL and Direct3D graphics APIs. This makes it easier to create more detailed worlds and more advanced characters.

-unified lighting system ensures all game assets have access to the same rendering feature set, ensuring visual continuity.

-Source 2 directly improves gameplay is by reducing the latency between issuing a command and seeing your hero react to that command. Our redesigned input system now allows the server to process mouse clicks and key presses directly into visible actions more quickly than before.

-The new tiled map authoring tools allow maps in Dota 2 to be built using a tile system, which makes authoring new maps faster and more accessible.

-Multithreading & Streaming; Source 2 will use any available CPU cores to provide a smoother experience, removing many hitches during gameplay. Also, much of the game content can be streamed in the background while the game stays responsive. Animation, voice chat, music and more can continue while the game is loading.

-Source 2 was built to support a wide range of hardware. Dota 2 in Source 2 runs better on older laptops, and at the same time further increases performance on current desktops.

-can use all of your CPU cores, your 64-bit OS and memory,

-support for recent and upcoming graphics standards like Direct3D 11 and Vulkan

-Virtual Reality support

-Performance will continue to improve during the beta as we optimize it for more PC configurations.

-Source 2 uses a new audio system that processes all audio in full quality through the entire pipeline. Voice chat makes use of this improvement, and is now noticeably higher quality and has less latency than before.

-Audio and voice processing also use multi-threading to run in the background and avoid dropouts.

-The Source 2 audio system also makes use of your processor's SIMD instruction sets to improve performance.

-New audio scripting capabilities for audio designers which lets them customize the mix and effects pipeline without changing any code. This capability is also supported in Custom Games.

-new versions of our physics and cloth simulation engines which implement higher quality, more stable simulations.

-native support for OpenGL without needing a wrapper, improving performance, memory usage and loading times on other (non-windows) platforms.

-Using updated source film-maker make movies in the same environment using the same assets. You can also easily customize and pose heroes to render posters, capturing a single image in extremely high fidelity. Going forward, the assets available to Dota filmmakers will stay up to date with the latest Dota game updates.

-Record and edit your favorite Dota matches - ones you've participated in or any that you've downloaded. Animate dynamic camera moves, add or remove characters, and change map environments to showcase your wins or highlight an exciting team fight from a tournament.

-create longer movies and larger worlds using the 64-bit Source 2 engine. You'll also enjoy faster load times, dynamic map loading between shots, and faster render times. Any assets that you edit will dynamically update live in the tool's viewport.

-Exert more control over rigging, with the addition of bone-at-a-time IK and other constraints, including the new spline constraint. You can now preview and import heroes into the SFM, with customized particle effects and item sets. When your creation is complete, render directly to MP4 video with H.264/AAC encoding for the best quality settings for online viewing.

-new backbone and relay protocol to efficiently and securely carry user traffic, we've created a new network backbone that connects our US, European, and Asian datacenter sites.

-Over the next six months we expect to double the number of links in this network. We've also created a new game server relay network protocol, which can quickly adapt to determine the optimal route to the game server and take best advantage of our backbone (under testing)

-move game traffic into Valve's extensive worldwide network earlier in the route, resulting in packets spending less time traveling over congested public internet links and more time on our dedicated links. Once there, we can ensure routing is optimal and general internet traffic doesn't crowd out game traffic. Our experience shows that often the direct route is not the best one. In the US, 40% of all clients get a better ping when they enter our network earlier by selecting a relay closer to them. The improvement is usually modest, but for a small percentage of players, the ping is significantly lower.

-More durable DDOS protection; specialized mitigation hardware to our network edge locations. Additionally, our new relay protocol helps defend against DDoS. If an attack or other network disruption obstructs or degrades the route through one relay, clients will now be capable of quickly switching to another relay. Eventually we can completely remove game servers from the public IP address space, where they will be much safer from Denial of Service and other security hazards. Additionally, we've expanded the edge of our network to three terabits per second, and over the past six months we've doubled our server capacity in Singapore and increased capacity in US East by 40%. Over the next six months we are planning to expand worldwide capacity by over 50%.
Quote
Developer Tools

-Use Hammer's new tile system to quickly lay out your map, then fine-tune your creation with its powerful 3D modeling tools. An embedded Asset Browser also lets you browse models, particles, and materials, and quickly drag them into the level editor. Use the powerful lighting options in the 3D view to see exactly what your creation will look like in-game.

-create materials and import them easily into the game with the Material Editor. Tune shader parameters and update textures while viewing your changes live in-game.

-With the Model Editor, you're able to preview model appearance and animations as well as author gameplay details such as hitboxes and attachment points.

-Particle Editor lets you create or modify existing particle effects and preview them in isolation or live in the game. Play with dozens of manipulators, modify rendering, tune decay rates, and preview control point settings.

-console now comes with more powerful debugging features, multiple tabs and powerful filtering tools. You can also have the console live outside of the game, allowing you to access the console even after disconnecting or quitting the game.

-Panorama lets you use a web-like workflow using XML, CSS, and Javascript, which can integrate with your Lua gameplay scripts. It also updates without needing to restart the game or even reload the map. Additionally, with Panorama you can create high-fidelity UIs which can include particles and 3D models, and it has a robust inspection tool to debug your UI.

-Lua scripting gives authors a versatile tool to forge their creation. Most of the game functions can be accessed through script including hero abilities and modifiers, spawning NPCs and particles, or even changing global settings. You can also listen for events that happen in the game, such as entities being damaged or killed, and items being picked up. Additionally, you can create your own events.

-We'll be releasing plenty of example content to help you get the hang of creating your own Custom Games, including all of the source content for our Overthrow mode: maps, gameplay scripts, and a variety of advanced Panorama UIs ranging from scoreboards to team selection. Check out some of our particle examples to learn how the visual effects of Dota are built. Then have a look at the many existing Dota abilities we've recreated in Lua to help you get an idea of what you can create. We'll have more examples coming soon.
---
#20 Posted 18 June 2015 - 01:21 PM
---
#21 Posted 13 September 2015 - 05:52 AM
Looks like there has been a slight graphical uplift; probably whatever they could do without raising the system requirements and pissing off the existing huge player base.



---
---
#23 Posted 12 February 2017 - 10:07 AM
CS:GO will be moving to Source 2 as well

2:32 and 18:15



Also if you watch the whole video you will see that dust2 is being totally reworked, and will have a moonbase theme.

---
#24 Posted 12 February 2017 - 06:03 PM
pretty sure that moonbase thing was a joke


---
---
---
1 User(s) are reading this topic

0 members, 1 guests, 0 anonymous users